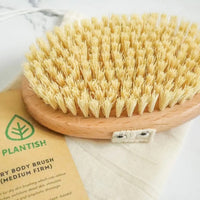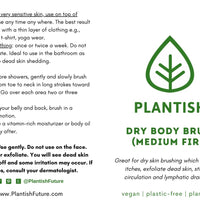 This 100% vegan, plastic-free body brush is great for dry skin brushing, relieving itches, exfoliating dead skin, stimulating circulation, and lymphatic drainage. Your skin will feel smoother, rejuvenated and the appearance of cellulite may reduce.
Note that vegan bristles are firmer than animal hair which means more dead skin will be brushed off. Dry body brush is medium-firm and comes with travel-friendly cotton bag with drawstring.
Disposal: Repurpose the brush for shoe cleaning, general house cleaning, gardening, etc. Bristles: cut with scissors then compost Handle and strap: check the city's waste management info before disposal. If unsure, always consider composting in the backyard over throwing it into the garbage.
Start where you are, use what you have, do what you can.